Trusted Mosquito Solutions For Smyrna, Georgia
Although Smyrna, Georgia is part of the Atlantic Metropolitan Area, there are several parks and green acreage available that are enjoyed by the residents and visitors. After all, the city is also known as the Jonquil City because thousands of jonquils bloom and flourish throughout the area in the spring. To enjoy the beautiful greenery offered in Smyrna, you may also have to share the space with the dreaded mosquito. However, even though it may be challenging to avoid mosquitoes, it doesn't have to become a stressful experience.
When faced with mosquitos, you should look to Tuxedo Mosquito Control for assistance. With over 1400 satisfied homeowners and more than 200 businesses protected, we are the go-to for mosquito control in Smyrna and the surrounding areas. Anyone in Georgia knows how mosquito activity can be in the hot and humid environment, which is why as a family-operated business we are dedicated to the effective control of mosquitoes and other stinging, biting, and flying insects. Other companies may offer mosquito control services, but here at Tuxedo Mosquito Control, we specialize in this frustrating pest. So, don't wait for a mosquito problem, give us a call to deter them!
Home Mosquito Control In Smyrna, Georgia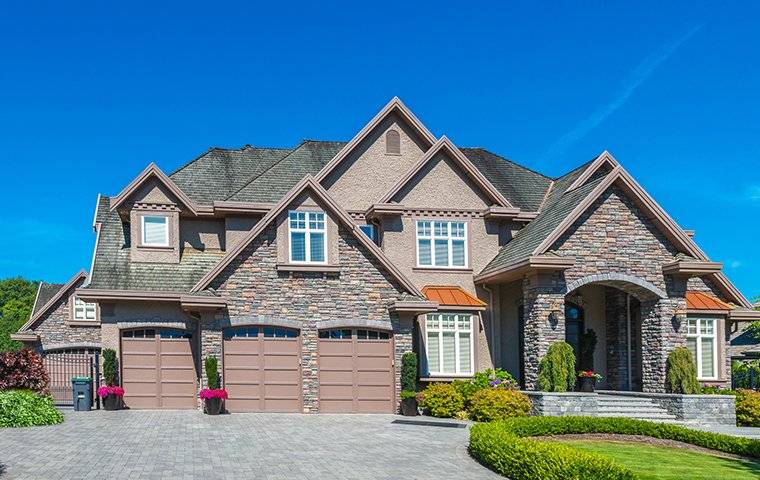 How many times have you gone out into your yard to enjoy some fresh air but found yourself being harassed by mosquitoes and forced to go back inside? This is a common experience for people in Smyrna, but there is a way to change this. Call Tuxedo Mosquito Control, so you can enjoy the outdoors!
Our Residential Offerings
At Tuxedo Mosquito Control, we understand that no two homes are the same, even if they are in the same city. Because of this, we don't just apply a one-size-fits-all process to every property we treat. Using a thorough inspection of your property, we will customize a residential plan to take care of your mosquito problem.
Although we also offer spraying services, we utilize an automated mosquito misting system that is more effective and convenient than any other mosquito control method available. Using an easy-to-use remote, you can apply a treatment to your yard while inside your home, getting your yard prepared for guests or your enjoyment.
Our misting systems and spraying services will keep your residential property mosquito-free as no other control methods can! Don't wait; call Tuxedo Mosquito Control to take care of those pesky flying insects and get back to enjoying your yard!
Commercial Mosquito Control In Smyrna, Georgia
Mosquitoes can quickly drive customers away from businesses in Smyrna, Georgia. At Tuxedo Mosquito Control, our goal is to prevent this from occurring to ensure your operations continue to run smoothly. We service it all from pools to tennis courts, amphitheaters, church recreation areas, and all outdoor events!
Our Commercial Offerings
We make mosquito control easy with our MistAway Gen III+ automated misting system. After a close inspection of your property, we will install a system to protect your property, no matter what size. For large areas, we offer zoning kits upon request!
We also offer monthly mosquito spraying or spraying for special events. Spraying services help ensure your property is mosquito-free for outdoor events.
Want to learn more about our all-natural mosquito misting solutions? Contact us at Tuxedo Mosquito Control! One of our mosquito experts will guide you in the right direction regarding what system and commercial plan are best for your property, keeping those unwanted mosquitoes away.
How To Control Mosquitoes Outside Your Smyrna Business
Due to the weather in Georgia, mosquitoes can thrive, which is not suitable for any Smyrna business. Fortunately, there are several things you can do to control mosquitoes around your property, keeping employees and customers safe and happy in the process. This includes:
Removing any standing water on your property as mosquitoes only need a few inches of water to breed.
Maintaining flowering plants and fruit trees because only female mosquitoes feed on blood, while males consume nectar and sugary liquids.
Plant lavender, citronella, marigolds, rosemary, and basil to keep mosquitoes away.
Without a doubt, the best way to control mosquitoes outside your Smyrna Business is with expert assistance. Look no further than the leading mosquito experts at Tuxedo Mosquito Control. Our misting and spraying services are guaranteed to keep your property mosquito-free. Call today to learn more!
Four Ways To Manage Mosquitoes On Your Smyrna Property
Are you tired of mosquitoes on your Smyrna property? We don't blame you! They are some seriously annoying pests that no one wants to deal with. Luckily, the experts at Tuxedo Mosquito Control have four ways you can manage mosquitoes on your property. These are:
Keep your yard maintained by cutting the grass, trimming foliage, and removing debris. By doing this, you will limit the shady areas mosquitoes need to hide from the hot sun.
Keep your gutters clean, don't overwater plants, and replace birdbath and pond water frequently to keep mosquitoes from breeding.
Don't let plants over flower because male mosquitoes feed on nectar.
Let natural predators on your property such as spiders, birds, and bats. This will help keep mosquito populations down.
For the best mosquito management results, call us at Tuxedo Mosquito Control. We are the area's leading mosquito experts and we will make sure that your property is mosquito-free! Don't wait; contact us today to learn more!